My friend Lucy and I spent a great afternoon snapping away like Paparazzi, getting photos of real kids doing real things. Mostly fidgeting and fighting... and being very very sweet.
The reference for Milo and his mom looked very Madonna and Child, and... as luck would have it... very Mary Cassatt.
My art league is having a contest called "In the Manner Of..." and I toyed with some Winslow Homer ideas in watercolor but the more I looked the more I was not up to the task. So these great pink children inspired my attempt at Mary Cassatt, who along with Degas were the two memorable Impressionist pastel painters. Mary was well known for her mothers and beautiful half naked kids! So Milo and Lucy were my inspiration.
This is not my first try. I will show that in another post, but this larger piece on 1/2 sheet of 140# watercolor paper, donated to me by Lucy from a stack of paper her mother, also an artist, had left her. Taped and sketched, I use my old set of Marie brand watercolors, found by a friend in a rental they had cleaned before leasing out!! The low quality of the paints is actually part of my process.
When I plan an underpainting, I try to think where I want to use complements and where I want to support the color. In this piece I knew I had to back off my values. The charm of the Mary Cassatt images was a flat flood of daylight over pink juicy baby bellies! No black and only one brown stick would I use...
Thinning the paints and loosely painting under the colors, not really sticking to the drawing, I like to make color passages under where the pastels will go.
Here is the underpainting: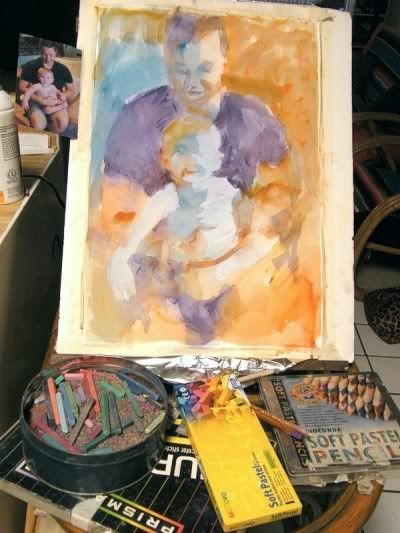 You see my basic set up. There are the NuPastels, pastel pencils, a tin full of rice to clean them and a small inexpensive but really nice quality soft pastels that I like to use to juice things up.
I like to store the long sticks, the green sticks, the less than used extra sticks in the rice. This, as you can see, is very well used. I throw the dirty sticks in and shake them up and most of the stray dust falls off and I find that I have MANY LESS BROWNS and a lot more lovely bright colors. My box contains most of my favorite small sticks, broken and somewhat organized to use easily an portably.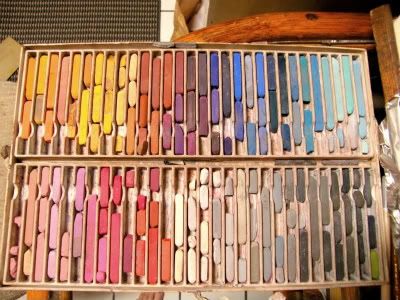 The underpainting was designed to keep a long cool tone through the baby, and a dark, but colorful contrast in the mother's shirt. Although it was black, my first attempt featured it much too strongly and I was determined to use no black in this. My darkest darks were mixtures of dark indigo, dark burnt umber and deep purple sticks.
I start by seeing what areas I need to redraw and will put in scrubs of light next to dark colors to establish value ranges..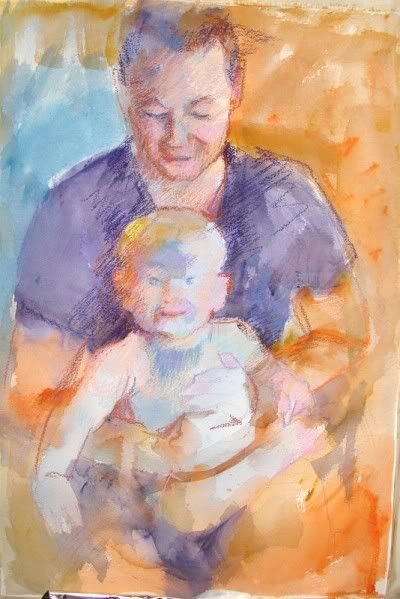 I wanted to be sure there were very few outlines and strong hard edges. Finding Mom's eyebrows and placing them all in proportion were important, but as you see, the hair is starting in violets and browns.
I then try to build lights and darks, trying to keep the colors less relevant that their values. I use very light blue-greens, and yellows along with lavenders and pink in the skin tones. Colors that need dulling and brightening will be lightly hatched with white or gray that can lift it to the proper tone. This hatching and over hatching creates a blended surface, full of color.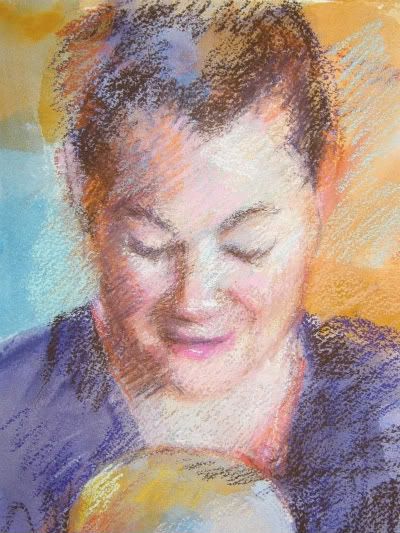 I will show how I draw and redraw and pull the values into the baby's pink belly in my next post.
dj*