It is not that my technique is better suited to figurative, in fact, most people would think the opposite, but I have challenged myself to do the impossible: A landscape.
I have some pretty nifty reference that I have been mulling over in my mind quite a while. This is a nearby view that I think will suit my needs as far as shapes and values. And one big cloud.
For this I did something new. I used an underpaint of a pastel medium by golden.... WHY WOULD I SPLURGE? I had some sample jars and a friend gave me three more. Time to play on someone else's penny.
It has ONE good quality. The paper did most of the buckling when it was applied, but because it is a little dryer, when I made my underpaint, it shrinked down a little and stayed relatively flat. No photos, as I was sort of stuck in my brain, but here is the first stop this morning in daylight.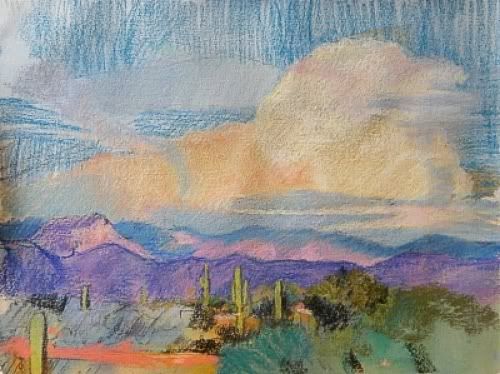 We will keep in touch with this one.